Missing most or all of your natural teeth can harm your quality of life in a variety of ways.
Dentures are a time-tested solution for replacing teeth to restore form, function, and beauty to your smile.
At the Center for Dentistry in Aiken, SC, our elite dentists use advanced technology to provide life-changing results to greater Augusta.
Dentures Are a Common
And Trusted Solution
More than 1 out of every 6 seniors in America has no remaining teeth. Many more are missing at least some of their teeth. The overwhelming majority of toothless Americans – a full 90% – have turned to dentures to replace their teeth.
Implant-Supported Dentures
Provide the Best Results
Dentures supported by implants are the most effective and stable option. This is because dental implants are surgically placed artificial tooth roots that provide maximum support for the dentures placed on top of them.
Dental implant-supported dentures are more expensive than your other options, however, the investment provides incredible benefits. These include avoiding denture slippage, preventing jawbone recession, and stronger bite strength.
Partial or full dentures will require some dietary adjustments that our dentists will advise you on. On the other hand, implant-supported dentures require no dietary changes.
Our Denture Care Is Optimized
By Cutting-Edge Technology
Traditional dental impressions have a deserved reputation of being gag-inducing and uncomfortable. We strive at every step to make our treatments as pleasant as possible. That is why we invested in exocad digital impression technology to circumvent the need for messy impressions.
We also use a cone-beam CT scanner to generate precise, 3D X-rays of your mouth. This advanced scanning system allows us to completely customize treatment and minimize complications. It is especially helpful for planning dental implant surgery.
Our dentists collaborate with a trusted local lab to create your dentures. After providing our detailed imagery and plan to the lab, they can craft your personally tailored dentures in just three days.
Choose Our Leading Dentists
Our team is led by two experienced and highly reviewed dentists, Leah B. Wilkins and her husband, Talmadge D. Wilkins. The Wilkins are both graduates of the College of Dental Medicine at the Medical University of South Carolina–our state's first and only dental school. Talmadge is on the board of advisors at the renowned Pankey Institute and Leah completed the essentials continuum at the same esteemed institution.
Our dentists are well-known for providing patient-centered care. They lead a highly trained staff that always goes above and beyond to make our patients feel at home. We understand that you are unique and your dentures should be too. If you live in Augusta or nearby, call or send us a message to receive the elite, personalized care you deserve.
Great Reviews From Aiken Dental Patients
Five stars: The dentists at the Center are perfectionists. My family and I have used them for our dental needs since they opened, and we have always been quite pleased with the results.
View on Google
The staff is excellent and takes care of their guests. I leave every time feeling well taken care of!
View on Google
Are Dentures Covered by Insurance?
Dentures are at least partially covered by dental insurance. Implants, on the other hand, are not. However, the fact that implants can prevent the need for additional procedures, like bone grafting, and substantially increase your quality of life means more and more patients are choosing them.
New Dentures
This patient came to our dental team because he was missing nearly all of his natural teeth. After getting to know him and his goals, we determined that dentures supported by implants were the best option for him. He placed his trust in our dentistry office and was able to leave with a functional smile he now proudly showcases.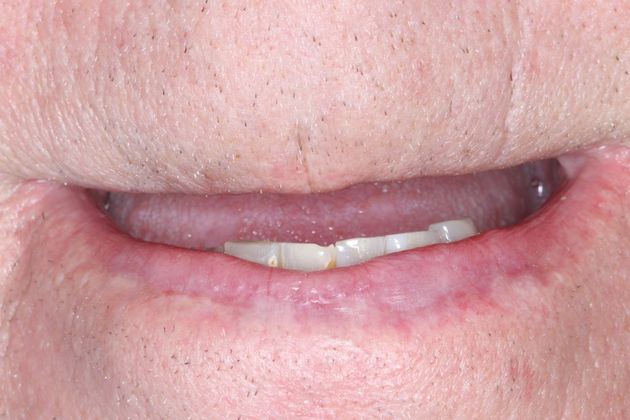 Denture Replacements
Our reputation for high-quality dentistry leads many patients to seek us out. This woman came from out of the area because she was displeased with the dentures another dentist had provided. They had failed to fully reveal her upper teeth. We understood her concern and used facially generated treatment planning to give her teeth that made her look and feel younger and more vibrant.
We Also Do Denture Repairs
As you saw in our before and afters above, we can replace unsatisfactory dentures with a more effective pair. We can also perform many denture repairs in our Aiken, SC, office. Signs you need repair include slippage, noise while eating or talking, bleeding gums, and gum sores. Contact us for more information.
Aiken Patients Love Our Dental Team
The Center for Dentistry team has improved my ability to enjoy my food. I needed to upgrade my partials in order to eat well and the Doctors Wilkins with their skills and professionalism made that happen.
View on Google
Five star dental practice! Everyone is very caring, kind and professional!
View on Google